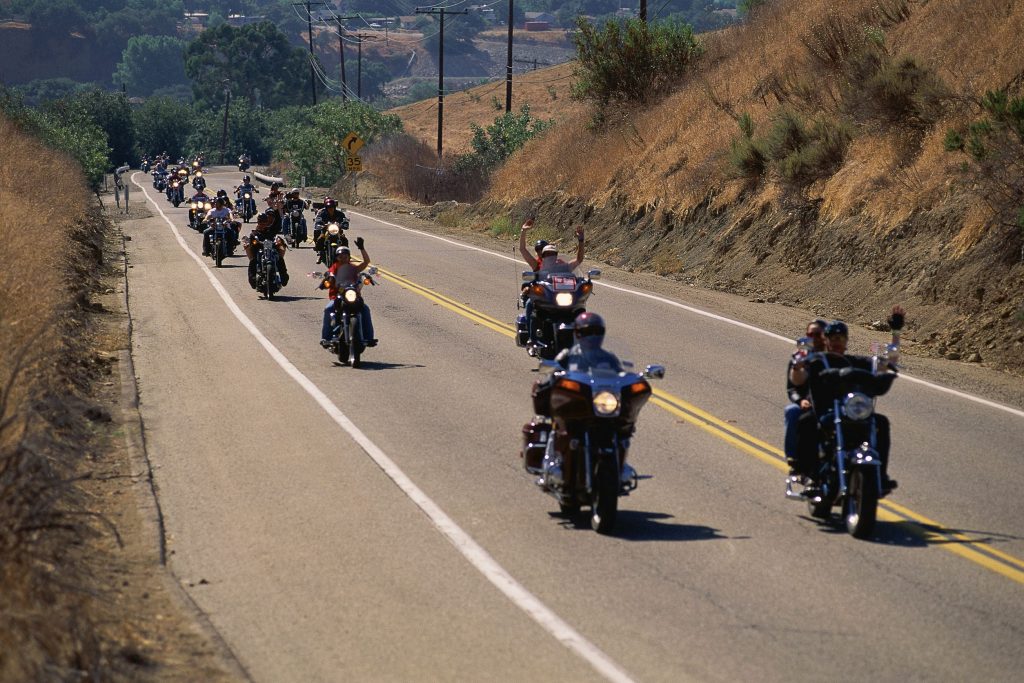 In Nevada, it is almost always a great time to hit the road for a motorcycle trip. Although, if you're planning on going out for vacation motorcycle get-away, you should be mindful state laws and safety procedures. The following article is intended to inform you of Nevada motorcycle laws and provide some common motorcycle safety tips.
Nevada Motorcycle Laws and Regulations
Helmets are required for all riders and passengers that are riding on a motorcycle on a highway.

Handlebars cannot be above a rider's shoulders when he rides.

Every motorcycle needs fenders when it is being ridden.

Riders and passengers need eye protection when operating a motorcycle, except when the motorcycle is fitted with a windshield.

Motorcycles are required to have one or two headlamps that are between 24 and 54 inches off the ground.

Motorcycles must have at least one taillight that is visible from 500 feet away.

Motorcycle must have a tail reflector that is between 20 and 60 inches off the ground.

Motorcycles must have two side mirrors that do not have a diameter of less than three inches and can view 200 feet behind the motorcycle.

Turn signals are required on all motorcycles, unless the motorcycle was manufactured before 1973.

Riders must have at least $15,000 bodily injury insurance if one person is involved in a crash.

Riders must have at least $30,000 bodily injury insurance if two or more people are involved in a crash.

Motorcycles must have a fixed passenger seat and footrests to carry a passenger.

Two motorcyclists riding next to each other in a single lane is legal.
Nevada Motorcycle Safety Tips
Use protective equipment

.




When you ride on a motorcycle, you will be exposed to debris and the elements. So, it is a good idea to wear clothing that will protect you. You should wear durable clothing that will keep you warm while you ride, jeans and a canvas jacket would do the job well. Some motorcycle companies even make clothing specifically designed for riding, and which may provide the most amount of comfort and protection. When you buy a helmet, make sure that it has been approved by the US Department of Transportation (DOT), this should be indicated by a tag in the back of the helmet. Make sure that your helmet covers your entire head, and that it fits snuggly in order to gain the best protection. You should also wear heavy boots that come up above the ankle. This will help you shift gears more easily and might save you from a broken foot bone if you crash.

Know what to do in case of a crash

.




Even the most experienced riders crash every once in awhile. You should be familiar with your insurance policy, and be sure that you have any relevant medical information on your person while you ride. When you do crash, it is important to stay calm. Making sure that everyone is okay after a crash should be your main priority. All the other details can be settled afterwards. It would also be a good idea to keep a first aid kit on your motorcycle if possible.

Have an insurance policy that covers more than the bare minimum

.




It's never a good decision to ride with minimal or no insurance. Having an adequate insurance policy will provide a safety net to help you avoid a broad array of unsavory situations. You should consider an insurance policy that has:
Comprehensive coverage will pay for damages that were not the result of a collision with another vehicle. For example, if your motorcycle was stolen, or if it suffers from hail damage, this policy will cover costs.

Liability coverage will cover expenses if you are found liable for a crash. This coverage is a necessity, no matter how good of a rider you are.

Uninsured motorist coverage will provide compensation if an uninsured motorist crashes into you. Without this coverage, you may be stuck paying for your own damages because the at-fault driver does not have insurance doesn't fully compensate your damages.

Roadside assistance will provide a tow truck and repairs if you break down on the side of a road. This kind of coverage is especially useful for riders that like to go on long road trips.

Become comfortable on your bike before you start riding regularly

.




Most motorcycle crashes happen within five minutes after a rider starts his motorcycle. This is because beginner riders do not practice and get comfortable riding their motorcycles before using them on busy streets, thus they do not have the skills to avoid a crash. Motorcycle training courses are a great way of gaining experience, learning motorcycle skills, and becoming comfortable on your motorcycle.
Additional Resources
Nevada Motorcycle Operator's Manual
Nevada State Motorcycle Statutes