Jolley Urga Woodbury Little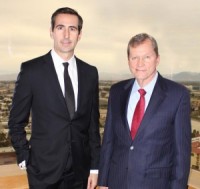 Phone
(855) 402-7721
Fax
702-699-7555
Office Locations
330 South Rampart Boulevard Tivoli Village, Suite 380 Las Vegas, Nevada 89145
1000 Nevada Way Suite 105, Boulder City, Nevada 89005
330 South Rampart Boulevard Tivoli Village, Suite 380 Las Vegas, Nevada 89145
1000 Nevada Way Suite 105, Boulder City, Nevada 89005
Law Firm / Lawyer Profile
Founded in 1974, JOLLEY URGA WOODBURY & LITTLE is a full-service civil practice with offices in Las Vegas and Boulder City. Our firm has a widely-diversified civil practice and specializes in a multitude of practice areas. Whether handling a client's litigation needs or transactional needs, we bring the insight and experience necessary to meet the ever-changing needs of our clients.
Our litigators practice in most areas of civil law including Business/Commercial Litigation, Administrative Law, Construction, Real Estate, Banking/Finance, Intellectual Property, Transportation, Domestic Relations, and Bankruptcy. Our firm's transactional attorneys handle Corporate Formation, Licensing, as well as Commercial and Real Estate transactions. We also specialize in all areas of Gaming, ranging from licensing to sales of hotel/casinos, and Probate/Estate Planning, ranging from will contests to the drafting of complex trusts.
JOLLEY URGA WOODBURY & LITTLE's long-term experience in southern Nevada, combined with the experience of our attorneys, uniquely positions us to service all types of clients. From Fortune 500 companies, large financial institutions, and national clients to local contractors, businesses, developers, and individual clients, we are committed to delivering high-quality service and efficient legal representation to all of our clients. Our lawyers are extremely proud of the quality of work we are able to provide while maintaining the highest standards of ethics and professionalism.
We are also dedicated to providing a work environment that fosters teamwork, both inside the office and within the southern Nevada community. We encourage active participation by attorneys in making southern Nevada a better place to live and work.
Practice Areas
Bankruptcy, Insolvency, and Debt
Divorce
Estate Planning
Family Law
Financial and Securities Law
Litigation
Probate
Real Estate